YOUR VISION. OUR TRACK RECORD
Driving Direct Bookings for Luxury Accommodation Provider
Digital Strategy | Website | SEO | Social Media | Marketing Automation
Orion Holidays are an independent, family run company that manages holiday homes in the Cotswolds Water Park on behalf of their owners to provide high quality holiday accommodation. They manage the entire process from marketing the properties, taking holiday bookings, liaison with holidaymakers during their stay and full property management, maintenance and cleaning.
Prior to working with the team at ATW, Orion were heavily reliant on 3rd party online booking sites to promote the holiday accommodation.  They wanted more control over sales and margins and knew that by increasing their direct bookings from the current levels they would gain both of these.
With no marketing resources in-house and a custom-built website that integrated their bookings CRM but gave limited control over content and changes, they wanted to find a local marketing company could they outsource their digital marketing activity to.
Setting an ambitious Digital Strategy
ATW spent the time understanding the challenges they faced and their goals for the future before recommending an ambitious digital strategy enabling them to take back control of their website, bookings and most importantly margins.
This included:
SEO and Social Media management to increase brand awareness and drive traffic to the site.
An improved website built in WordPress giving a better user experience, full control to make changes and with a significantly more robust integration with their booking platform.
Email marketing to their extensive database to increase repeat bookings.
Point of sale material for holidaymakers and owners in both printed and digital format.
More recent additions have included the introduction of an automated sales and marketing platform, development of a campaign targeting new property owners and a series of promotion and testimonial videos.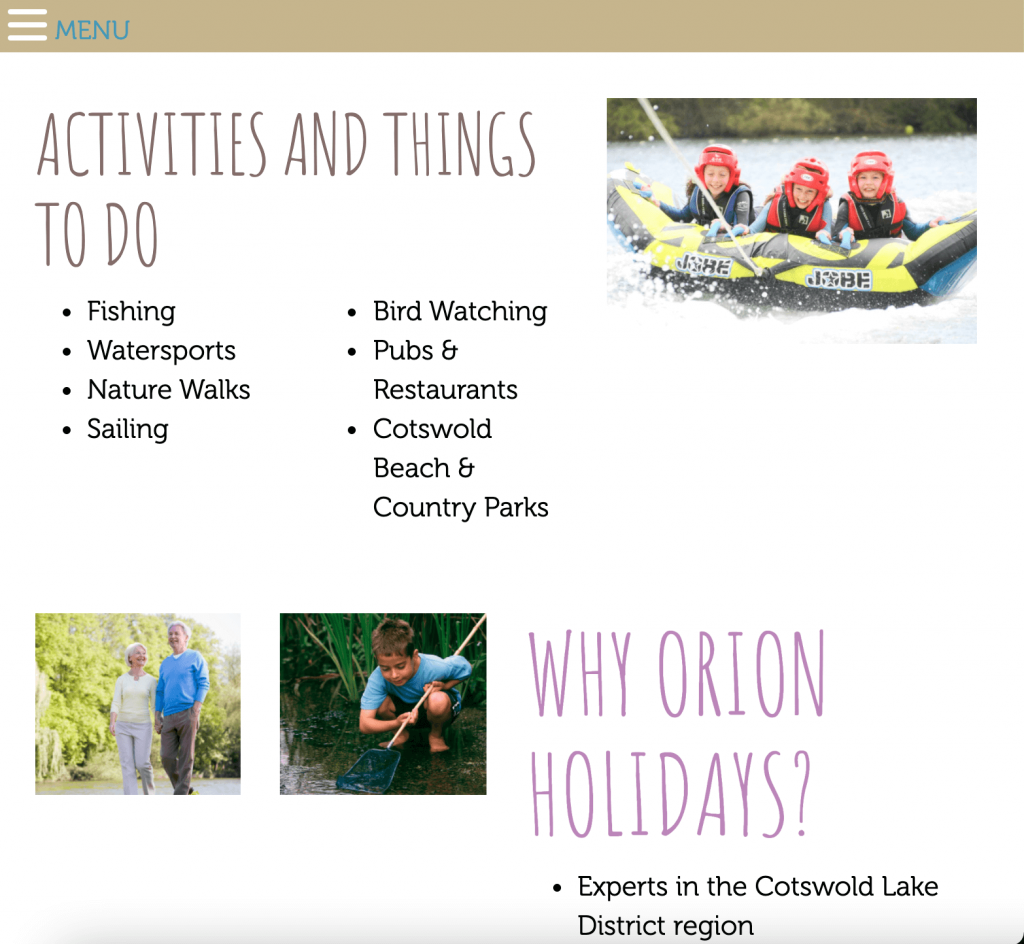 Direct bookings increased from 75% to 96%
The partnership has grown over the past 5 years and ATW continue to work with the team providing an outsourced Marketing Function with more recent additions of the implementation of an Automated Sales and Marketing platform to enable the business to generate, highly targeted content more easily and frequently.
Results include:
Website ranking for a wide range of relevant keyword phrases with traffic to the site increasing year on year.
Holiday bookings up year on year enabling business to maximise occupancy rates and returns for owners.
Increase of direct bookings to 96% reducing reliance on third party booking sites and improving control and margins.
Regular repeat bookings through targeted email marketing campaigns.
"ATW have developed a successful digital strategy that has delivered tangible results for our business.  They are always proactive, coming up with fresh ideas and pushing us to try new things and invest in our marketing with fantastic results.  Their transparent and honest approach is exactly what we want from a digital partner."
Mark Thomas, Managing Director, Orion Holidays
Get In Touch
Let's have a no obligation chat to find out how we can help you achieve your business goals.
YOUR VISION. OUR EXPERTISE