Have you ever wondered why you get so many search results for simple questions such as "time in Bristol" or 5+8? This might change for good, and you may start to see one answer on Google without the list of search results.
Barry Schwartz, Search Expert, explained this news first on Search Engine Land; apparently, Google is testing displaying only the answer to queries regarding the local time, unit converter or calculator. According to Danny Sullivan (Google's public educator about search), it is an experiment and might not stay.
So how does it work?

If you wish to know the local time anywhere in the world: type "time in Swindon" or "time in London" and this search will present you with the time only without the full list of the search results as before. If you are interested in other results, you can still see them by hitting the "Show all results" button.
The same applies to the calculator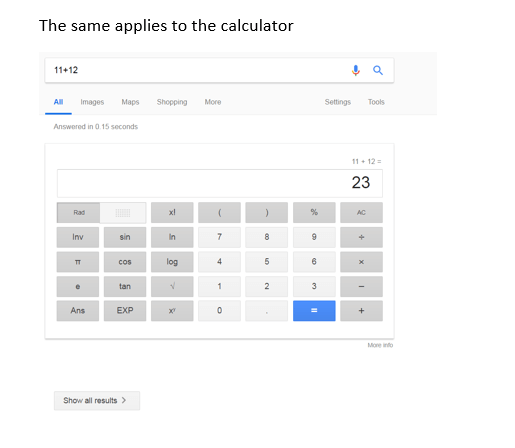 And it works for conversions as well!

However, it does have its limitations.  For instance, if you type in "12 UK size to us" you will get the usual search result list. If you try other answer-box related questions such as "how old is the queen", "when are half terms", "who is Obama" you will continue to get the full list of search results.
"Date in London" looks interesting
By typing "date in London" instead of "time in London" you will see the local time and surprisingly (or not!) the ads for the local dating agencies without the organic search results. This will have an impact on the visibility of organic rankings and the SEO (search engine optimisation) for organic search.
Danny Sullivan of Google explained the phenomena as follows:
"For a calculator, unit converter & local time, we are experimenting with a condensed view to further speed up load time. People who search for these tools rarely use full search results, but the results will remain available for those who want them via the "Show all results" button.
 It is still considered an experiment. It was tested & confident enough for a full rollout. Google will be watching closely how that goes, and I am sure make any changes that seem an improvement."
Are there Cons?

The critics find that Google "forcibly limit visibility" and provide less information. Some believe that this might decrease brand visibility on typo searches if you type "NY time" instead of "NY Times".
Rand Fishkin (founder of SEO software MOZ and SparkToro) asks significant questions in his tweet: "Was I Danny Sullivan, the journalist, I think I would ask "But is this really about speed? Or is it about hiding organic results?"
How will Google decide when is it appropriate to show only one answer? Currently, it is quite simple with local time, calculator and conversion. However, when the new display expands to other search queries as well, this might be a more difficult issue.
So what are the Pros?
The supporters find this new display more clear, user-friendly and easy to use. This change can be considered as the evolution of SERP (search engine result page) i.e. potentially the new normal.
Have more questions?
If you would like to learn more about how search engines work and how you can avail of our SEO services to optimise your company online, give our friendly team a call on 01285 50 55 50.