Annual seasonal events and trends offer various marketing opportunities for different businesses. For B2C businesses, seasonal events are a critical time of year financially so marketing around these times is essential. Seasonal marketing might not be as essential for B2B businesses, but getting involved or cashing in on an online trend can be a ticket to social success.
Regardless of what sector your business operates in, tailoring your marketing around events and trends is a great way to get your customers involved and show your business's human side.
Find out more about seasonal marketing, and how you can maximise on these events and trends in your marketing, with examples of seasonal and trend marketing done right.
Capitalising On Annual Events and Seasons
Unlike trends that are unpredictable, seasons and annual events can be capitalised on successfully year after year – nobody is going to get bored of Christmas anytime soon right? This consistency gives you ample time to plan out your marketing strategy beforehand.
Here are a couple of the most popular seasonal events to remember and ideas to get your business involved with them:
Marketing Ideas For Annual Events
Christmas – How could you forget? Here a couple of ideas to kickstart your Christmas marketing campaign:
Run a competition on social media to win a Christmas hamper, many businesses hold competitions around Christmas time with much success.
Get involved with National Christmas Jumper Day – share a photo of your team in their festive garments on social media.
Run special offers on products throughout the festive period.
Add Christmas themes to your branding, this could be products, your website or any customer communications – Starbucks does this brilliantly by releasing a Christmas themed cup every year:
Blue Monday – Falling on the 16th January, Blue Monday is known as the most depressing day of the year. Cheer your customers up with a discount, exclusive deal or voucher.
Sporting Events – The Olympics, Rugby World Cup, Wimbledon and Football events are all easy to capitalise on. For restaurants, pubs and bars, why not have a special offer on food whilst the game is on.
Valentine's Day – Make sure your customers are feeling the love of Valentine's Day, this could be through storytelling, reaching out to your customers, or offering a gift voucher for your products – try to make it personal – if romance isn't your thing, take a look at what Spotify did in 2016:
Pancake Day – Pancake day is a winner – even if you're business is not associated with food. Quidco have created really good engagement here by holding a competition that requires a retweet for entry.
RT & tell @TPOuk your ideal #PancakeDay recipe to #win a £100 M&S voucher! £15 cashback: http://t.co/5JC22MBb4n pic.twitter.com/CQf2GKgAem

— Quidco (@quidco) February 16, 2015
International Women's Day – A fantastic opportunity to celebrate influential women in your industry and in your own business.
April Fool's Day – Every large business has had a go at an April fool's day joke, they are usually terrible, but can create a real buzz around your brand when successful.
Star Wars Day – 'May the fourth be with you' this increasingly popular national day is a great opportunity to get involved with star wars themes.
Clocks Going Forward And Back – It may seem trivial, but the clocks going forwards and backwards catch a lot of people out! Putting a friendly reminder on social media may save a few of your followers from being late or early to work.
These are just a few of the annual events you can consider marketing for, there are hundreds more, take a look at this social media holiday calendar 2017 for further inspiration.
Capitalising On Trends
Trends on the internet are often short-lived but very powerful, remember the Harlem Shake? The ice bucket challenge? The mannequin challenge? Whilst all these trends mean little now, at the time, businesses that were posting about them, and doing their own versions, were receiving lots of engagement from their potential customers.
The Power Of Social Media
Social media is the place to find trends as they begin to go viral, a great example of businesses jumping on a social media trend was the #nuggsforcarter hashtag which became the most popular tweet ever with a massive 3.6 million retweets (the tweet was recently dethroned by Barack Obama).
It started with a teenager from Nevada tweeting fast-food giant Wendy's asking how many retweets he'd need for a year of free nuggets, their response:
HELP ME PLEASE. A MAN NEEDS HIS NUGGS pic.twitter.com/4SrfHmEMo3

— Carter Wilkerson (@carterjwm) April 6, 2017
The tweet exploded, and after being shared by some high-profile celebs, businesses such as Apple, Google, Microsoft and other fast food joints got involved. Whilst it may seem trivial, tweets like this are good for business – with Wendy's reportedly gaining 149,000 followers on Twitter following the tweets success.
Live your best life, Carter. Follow your dreams. #NuggsForCarter https://t.co/PbHd9JMQjE

— Amazon.com (@amazon) April 8, 2017
 Monitor Trends As They Begin
Here's how you can check what's trending on social media and on Google. Monitoring these platforms regularly gives you a great insight into what's popular right now, allowing you to spot upcoming trends and tailor your marketing activity around them if applicable:
Twitter  – To see what's trending on Twitter, simply head to your homepage view the 'trends' box on the left-hand side – you can change the settings on this feature to see what is trending in different regions.
 Facebook – Facebook trending section is a fairly new feature that you can find in the top right of your Facebook news feed. You can find out the top stories from chosen categories such as sport, education and film.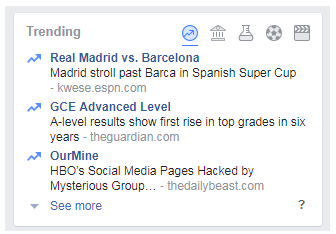 Google Trends – Google trends is a brilliant tool for measuring current and historical popularity for search terms – checking this tool regularly helps you stay on top of any trends you may have otherwise missed.
Need A Hand?
If the thought of planning your marketing for Christmas now makes you feel sick, we can help. We have a range of services designed to help you maximise on every area of your marketing – whether it's bespoke training, expert consultancy or a fully managed marketing service, we'll find a solution that works for you – give us a call on 01285 50 55 50 today.